Product Description
WooCommerce Product Bundles 5.2.4 Extension
Offer pre-selected or customizable bundles by grouping products together
Product bundling is one of the most effective marketing strategies around. Bundle a few products together, offer them at a discount and watch your sales soar.
But bundling is not all about boosting sales. Product grouping is a common technique for creating complex products, kits and assemblies that consist of multiple parts. These parts can be managed individually, bundled in multiples, and in some cases, have their own configurable attribute and quantity options — or be entirely optional.
Product Bundles is a straightforward WooCommerce extension for creating product packages. Quickly build complex products or create simple discount combos by mixing simple and variable products. Subscriptions and downloadable/virtual products are also supported.
Product Bundles has smooth integration with many popular WooCommerce extensions, such as Product Add-Ons, WooCommerce Subscriptions and Composite Products.
Regardless of what you bundle, this extension gives you all the flexibility you need to customize content, pricing and shipping down to the last detail.
Features
Support for simple, variable, digital and subscription products
Ideal for applications with strict inventory management requirements
Flexible pricing and shipping options
Configurable bundled product quantities and optional bundled items
"Insufficient stock" report for individual products to ensure all bundles containing them are fulfillable
Support for popular WooCommerce extensions, such as WooCommerce Subscriptions, Product Add-ons, Name Your Price and Composite Products (separate purchases)
Growing collection of free snippets and mini-extensions for customizations and adding functionality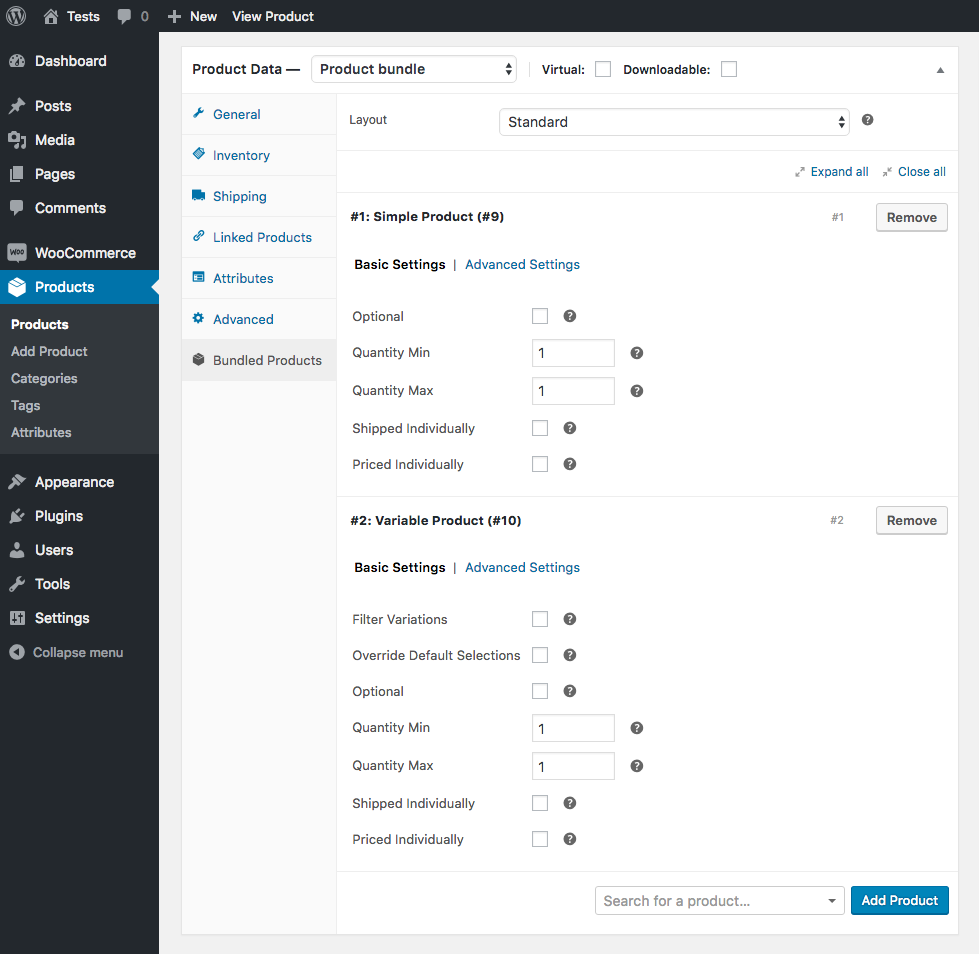 How to know if Product Bundles is right for you
Product Bundles is ideal for creating product packages with static content. All bundled items are pre-defined, and customers may only select individual quantities and attributes, or add/remove any items that have been marked as optional.
If you want to build product kits that consist of individual components with dynamic, configurable product options, then Composite Products might be a better option. WooCommerce provides even more ways to sell products together, such as Grouped Products, Chained Products and Force Sells.
Can't figure out which extension is right for your store? We've written a
handy comparison
to help you decide.
WooCommerce Product Bundles Payment Gateway Extension,WooCommerce Product Bundles Payment Gateway plugin,plugin Product Bundles Payment Gateway Download free,WooCommerce Product Bundles Payment Gateway Download free,WooCommerce Product Bundles Payment Gateway Download Extension,Download WooCommerce Product Bundles Payment Gateway,Download WooThemes Product Bundles Payment Gateway WooCommerce plugin,Premium WooCommerce Product Bundles Payment Gateway,plugin WooCommerce Product Bundles Payment Gateway,WooThemes Product Bundles Payment Gateway WooCommerce plugin,WooThemes Product Bundles Payment Gateway WooCommerce Extensions,Download Premium Product Bundles Payment Gateway WooCommerce Extensions,WooCommerce Product Bundles Payment Gateway Extensions Latest Updates,WooCommerce plugins and themes updates Product Bundles Payment Gateway,WooCommerce Product Bundles Payment Gateway WordPress Plugins,woocommerce Product Bundles Payment Gateway plugin free,best woocommerce Product Bundles Payment Gateway plugin,woocommerce Product Bundles Payment Gateway Latest Updates,Product Bundles Payment Gateway Woocommerce Extensions Download Free,Product Bundles Payment Gateway WooThemes,Product Bundles Payment Gateway for WooCommerce,Premium WooCommerce Extensions Download Product Bundles Payment Gateway