Product Description
YITH WooCommerce Stripe Premium 1.3.0 Extension
Industry researches have proved that credit card payments online increases sales up to 23% because products and services become more easily available to customers.
YITH WooCommerce Stripe offers the possibility to make all this simpler and quicker in your own ecommerce by both sparing you the trouble to do it from back end side and granting your reliability on the web.
YOUR CREDIT-CARD-INTEGRATED SHOP: INCREASE SALES BY IMPROVING CUSTOMER LOYALTY AND BRAND IMAGE
All biggest and reliable ecommerce websites allow credit card payments, so they allow integration within their own website instead of referring to another external website.
Some shoppers do avoid the trouble of credit card integration because processing might result more difficult, but so they lose in reliability. YITH WooCommerce Stripe makes credit card payment integration for you and with the circuits it offers.
Moreover, allowing different payment methods, besides standard ones offered by WooCommerce has many advantages for your business activity. Making payment an automated process improves productivity, because it does not takes you time that you can devote to other aspects of your work and makes things also quicker, which is really appreciated by your users.
Your brand image results improved and your customers' loyalty too. Moreover, the possibility to use credit card allows customers to feel freer to spend more when they make purchases.
YITH WooCommerce Stripe makes this possible for the many countries supported. Be sure you or your business are based in one of the supported countries (refer to this page) and then enjoy it!
QUICK INFO
Requires:
WORDPRESS 4.0 OR HIGHER
Compatible up to:
WORDPRESS 4.6.X
Requires:
WOOCOMMERCE 2.4.0 OR HIGHER
Compatible up to:
WOOCOMMERCE 2.6.X
Minimum PHP version:
5.4
Version:
1.2.10
Released:
2016-06-16
100% WPML Compatible:
YES
Translation ready:
YES
Languages:
ENGLISH
Support to:

ALL YITH PLUGINS
ALL YITH THEMES
WITH THE PREMIUM VERSION OF THE PLUGIN YOU CAN:
EXPLOIT "STANDARD" PAYMENT MODE
AND ASK FOR CREDIT CARD DATA IN YOUR CHECKOUT PAGE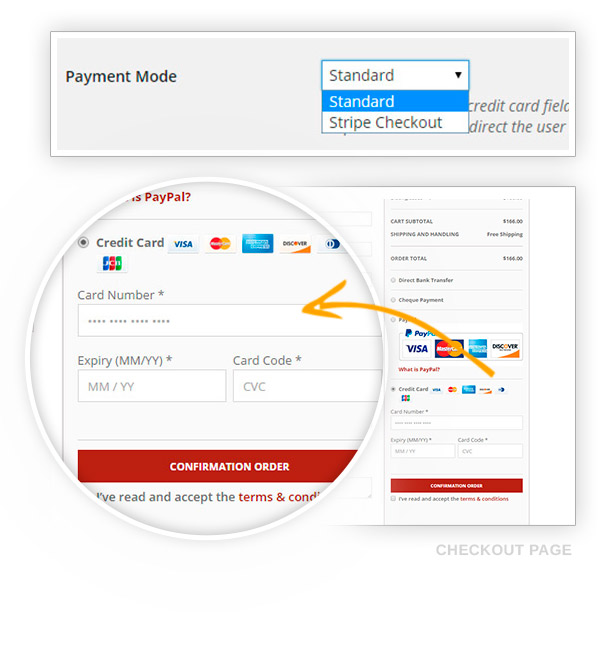 SELECT "STRIPE CHECKOUT"
AND SHOW STRIPE CHECKOUT FORM IN A POPUP WINDOW, WITHOUT HAVING TO REDIRECT USERS TO OTHER PAGES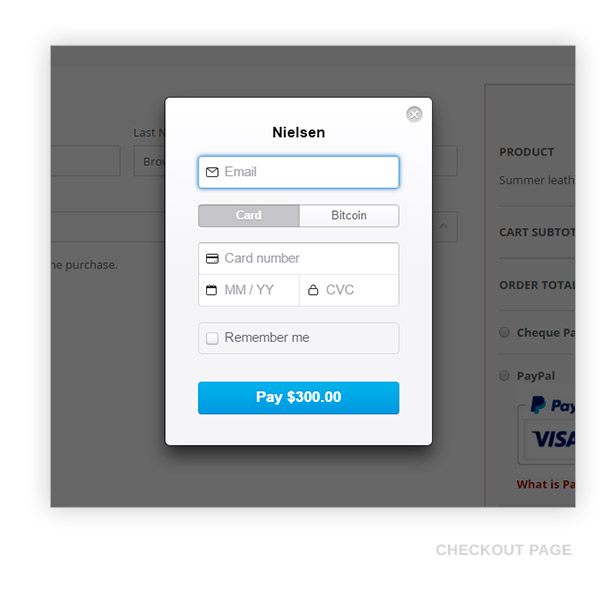 SAVE CARD DATA
ASSOCIATE THE DATA OF MORE THAN ONE CREDIT CARD TO AN ACCOUNT SO THAT THEY CAN BE IMMEDIATELY AVAILABLE FOR FUTURE PURCHASES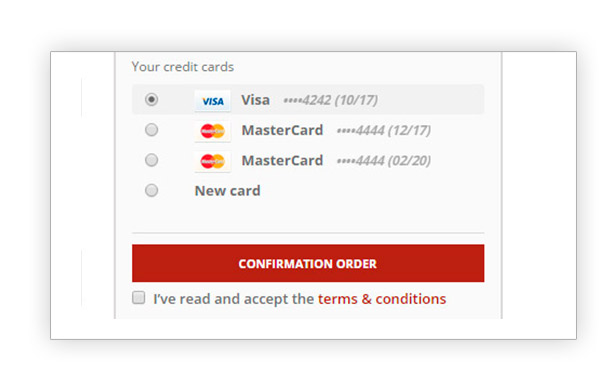 BITCOIN
GIVE YOUR USERS THE OPPORTUNITY TO OPT FOR BITCOIN PAYMENT FROM "STRIPE CHECKOUT" (ONLY AVAILABLE ON US)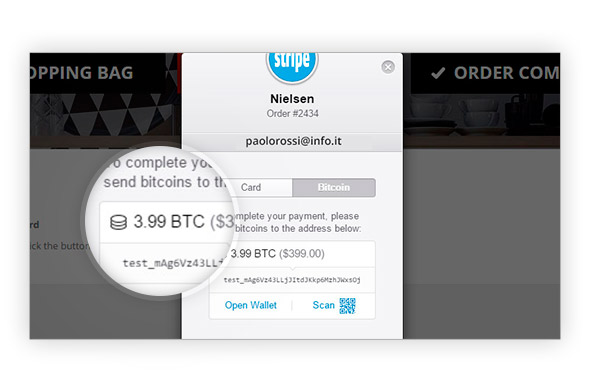 REFUND IN ONE MOVE
FROM WOOCOMMERCE PANEL IN ONE CLICK, REFUND THE SUM IN QUESTION TO THE SPECIFIED CARD.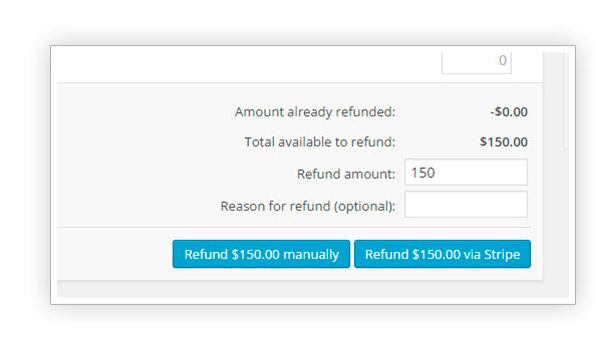 CONFIGURE YOUR SITE THROUGH WEBHOOKS
MAKE ACTIONS ON PAYMENTS (I.E. REFUNDS OR CANCELLATIONS) FROM YOUR STRIPE ACCOUNT AND FIND THEM AUTOMATICALLY UPDATED WITHIN YOUR WEBSITE.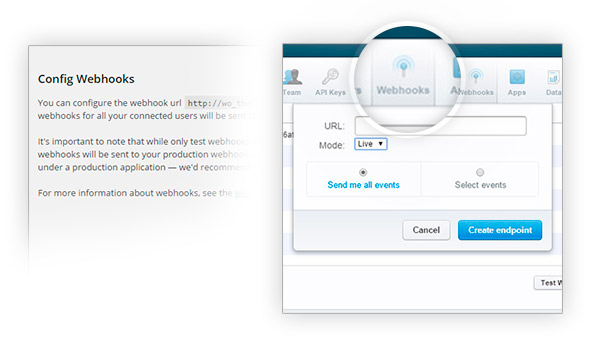 ADD TO BLACKLIST
THOSE USERS WHO HAD A DENIED REQUEST FOR CREDIT CARD PAYMENTS BEFOREHAND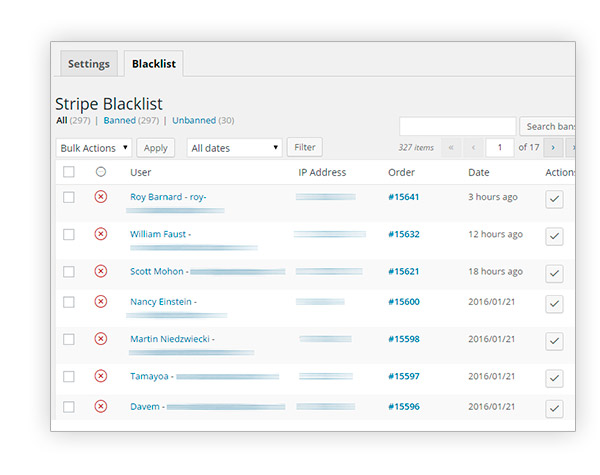 PREVENT FRAUDULENT PAYMENTS
BY MAKING MANDATORY THE INSERTION OF INVOICE DATA ALSO WHEN CLASSIC CHECKOUT ISN'T PROVIDED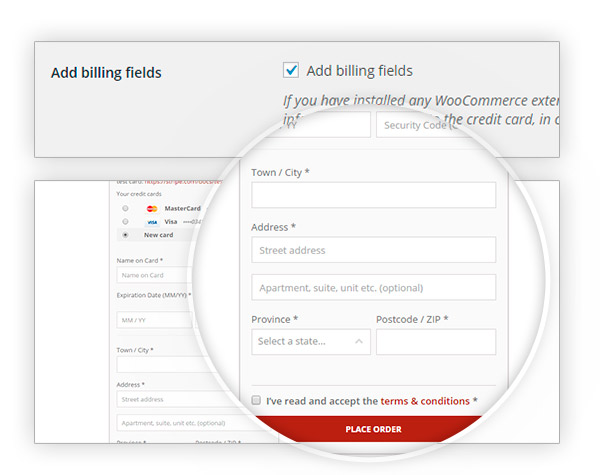 AUTHORIZE FIRST AND CAPTURE LATER
CAPTURE THE ORDER AS SOON AS USERS SEND A REQUEST OR JUST AFTER THE ORDER HAS BEEN SHIPPED.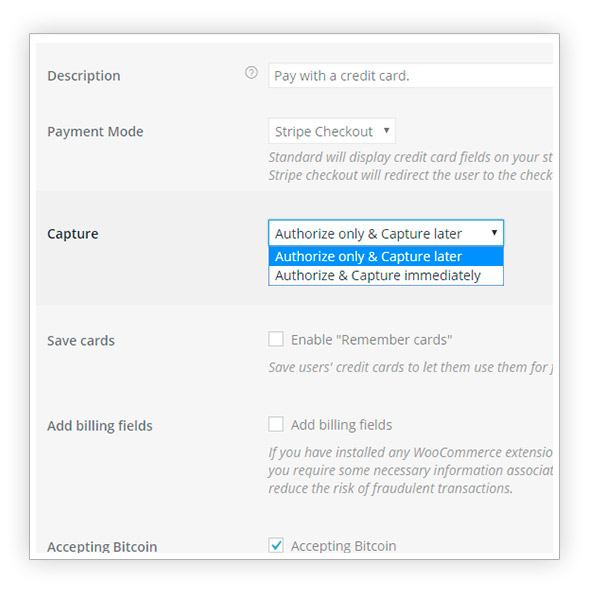 RELEASE SUBSCRIPTIONS REGISTERED WITH CREDIT CARDS
THANKS TO COMPATIBILITY WITH YITH WOOCOMMERCE SUBSCRIPTION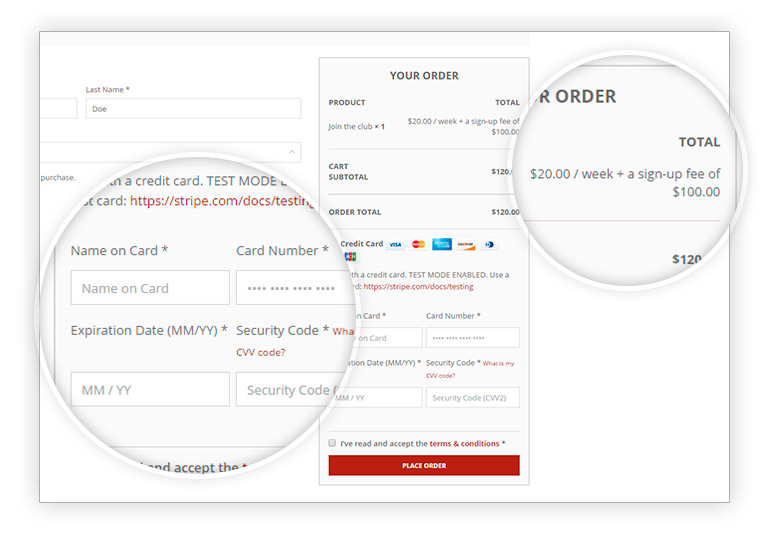 TAKE ADVANTAGE OF THE WPML COMPATIBILITY
YOU ARE FREE TO EASILY TRANSLATE THE PLUGIN WITH THE POWERFUL WPML TO
WooCommerce YITH Stripe Payment Gateway Extension
,WooCommerce YITH Stripe Payment Gateway plugin
,plugin YITH Stripe Payment Gateway Download free
,WooCommerce YITH Stripe Payment Gateway Download free
,WooCommerce YITH Stripe Payment Gateway Download Extension
,Download WooCommerce YITH Stripe Payment Gateway
,Download WooThemes YITH Stripe Payment Gateway WooCommerce plugin
,Premium WooCommerce YITH Stripe Payment Gateway
,plugin WooCommerce YITH Stripe Payment Gateway
,WooThemes YITH Stripe Payment Gateway WooCommerce plugin
,WooThemes YITH Stripe Payment Gateway WooCommerce Extension
,Download Premium YITH Stripe Payment Gateway WooCommerce Extension
,WooCommerce YITH Stripe Payment Gateway Extension Latest Updates
,WooCommerce plugins and themes updates YITH Stripe Payment Gateway
,WooCommerce YITH Stripe Payment Gateway WordPress Plugins
,woocommerce YITH Stripe Payment Gateway plugin free
,best woocommerce YITH Stripe Payment Gateway plugin
,woocommerce YITH Stripe Payment Gateway Latest Updates
,YITH Stripe Payment Gateway Woocommerce Extension Download Free
,YITH Stripe Payment Gateway WooThemes
,YITH Stripe Payment Gateway for WooCommerce
,Premium WooCommerce Extension Download YITH Stripe Payment Gateway